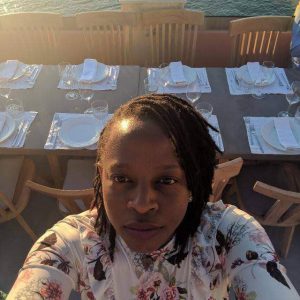 Be realistic about your set of skills and resources.
It's hard to walk the busy streets of Ug Tech Town and not hear a thing or two about Lynn Asiimwe. Some rumors even say there are entire songs in her honor. As diligent as we are at doing investigations of this sort, we still failed to verify this claim. Crushed, we decided to go for the next best thing – do some digging. Here is what we found.
Lynn is has a personal blog where she is writing mostly on tech with a focus of encouraging women to take on careers in tech.
Lynn worked with Django girls as a technical facilitator, and also ran weekly Python classes at the Outbox Incubation hub under the Women's Passion Programme.
This tech enthusiast started her journey at the University of Cape Town, South Africa where she got a Degree in Electrical and Computer Engineering. She was also the Ugandan Google Zawadi scholar in 2011. From there, she got an internship at the Praekelt consulting services as a software developer in South Africa. She was also a software developer at Access Mobile in Kampala.
Currently, Lynn is working with Google where she is a Technical Solutions Engineer for Google Cloud. Formerly, she worked with the same organization as a Field Tech Resident from 2015-2017
With all this unearthed, we simply had to talk to the lady herself. Here's how our chat went.
Tell us a bit about your typical day at work
If I'm "on-call", I will be working on high priority customer-related production issues. If not, I will be working on ways to improve the nature of engineering support we provide to our customers.
What were some of the challenges you faced pursuing a career in software engineering?
There are always challenges no matter what career one chooses.
I used my first computer when I was 19. This was the time I was starting my Computer Science classes at the university. My biggest challenge was playing "catch up" with decades of computing and then trying to find where I belonged in this "computing wonderland".
Women are generally underrepresented in tech, more so in software engineering roles. How do you think this can be changed?
This a rather complex topic. In summary, I believe we need to create spaces where women feel welcome and safe. This is from high school to universities to our jobs.
What opportunities do we have as the youth in this country, in the field of IT?
There are endless sets of opportunities for us. And with the advent of cloud computing, it's a whole lot more exciting. But one has to factor in the challenges which many of Ugandan techies know.
What do you think we should learn from other countries in the tech space?
There are a lot of things we can learn from a lot of different countries. I'll pick one country, Nigeria. I regularly read blogs from entrepreneurs and engineers from Nigeria. Three things I learnt from them :
1) Own and understand your problems.
2) Be realistic about your set of skills and resources.
3) Be yourself.
We had a few more questions to ask her but, hey, do some digging yourself. Thanks a lot, Lynn for the interview and for inspiring other ladies to do what you do; we are looking forward to a great generation of tech with you at the forefront. We celebrate you.
For you our readers, while we go along, if you have anyone you'd like us to feature in this series, let us know here: Contact Us.
To view other WCW articles for ladies in tech, visit our blog and knock yourself out
For now though, join us in crushing on Lynn for the amazing work she's doing!